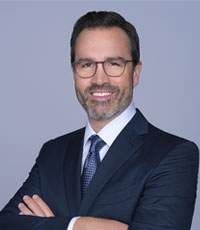 Awards
Best Lawyers in America
Best Law Firms (US News)
SuperLawyers
Top 50 Personal Injury Verdicts in Florida in 2017
Concentration
Cruise Ship Catastrophic Injury & Cruise Ship Sexual Assault
Locations Served
Worldwide
Michael A. Winkleman is one of the nation's top maritime lawyers. An active trial and appellate attorney, Mr. Winkleman is also a frequent contributing expert on maritime and cruise ship law. He has made more than 100 national television appearances regarding cruise ship law, including The Today Show, Dr. Oz, Good Morning America, 20/20, Inside Edition, OutFront with Erin Burnett, Fox News Channel's 'American's Newsroom,' 'Fox & Friends,' 'America Live,' 'Happening Now,' 'Justice with Judge Jeanine'; and 'Imus in the Morning.'
Mr. Winkleman has received numerous honors and accolades in recognition of his contributions to the field of maritime law, including the following:
Named to Best Lawyers in America ®
Selected for the Super Lawyers ® list for 2019-2021
Named a Rising Star ® repeatedly
Named by Florida Trend Magazine in 2015 as one of the Top Attorneys Under 40 ®
Named by Brickell Magazine in 2017 as a 'Top 20 under 40 Professional®'
---
Numerous Trial Victories Recovering Millions for Clients
Michael Winkleman's trial successes include the following:
$3.6 million dollar verdict against Carnival Corporation on behalf of the family of a deceased Italian crew member.
$2.36 million dollar verdict against Maersk Lines on behalf of an injured crewmember.
$3,342,440.00 award to a Honduran seaman who was denied adequate medical care after injuring his left foot aboard a cargo vessel.
$4.4 million dollar verdict in a third party Longshoreman's personal injury claim.
$970,230 verdict plus lifetime medical care against Royal Caribbean Cruises on behalf of an injured crew member.
$828,524 verdict in South Florida jet ski accident case, where the accident victim suffered extensive injuries after being allowed to operate a personal watercraft without prior experience or instruction.
$658,983 verdict against Carnival Corporation for a cruise ship passenger who was badly injured in the water park on the ship.
---
Successful Appellate Attorney
Mr. Winkleman is unique in that, in addition to his great trial success, he also has an excellent track record as an appellate attorney. Mr. Winkleman's appellate victories include the following:
KT v Royal Caribbean Cruises: Landmark decision that will require every cruise line to warn passengers about the risk of rapes and sexual assaults on their vessels.
Atlantic Sounding v. Townsend: Successfully argued in an Amicus Curiae brief in this landmark U.S. Supreme Court case, which established that maritime workers denied maintenance and cure may recover punitive damages under general maritime law.
Numerous victories in Eleventh Circuit Court of Appeals
Numerous victories in Third District Court of Appeals
---
Court Admissions and Professional Affiliations
Michael Winkleman is admitted to practice in all Florida state courts, the United States District Court for the Southern District of Florida, and the Eleventh Circuit Court of Appeals. In addition, he is a member of the following professional associations:
Appellate Committee of the Florida Justice Association
American Bar Association
Dade County Bar Association and its Appellate Practice Committee and Judicial Outreach Committee
Miami Dade Justice Association
Florida Admiralty Trial Lawyers Association
Southeastern Admiralty Lawyers Institute
---
Education and Background
In addition to his outstanding career as a litigator, Mr. Winkleman has had educational and teaching success as well. Some notable accomplishments are as follows:
Graduated Magna Cum Laude in 2006 from St. Thomas University School of Law, where he ranked third in his class and gave the commencement address.
Interned with the Honorable Judge David M. Gersten, then Chief Judge of the Third District Court of Appeal.
Served as a faculty instructor at the Florida College of Advanced Judicial Studies, teaching Florida judges about maritime law.
Taught a Continuing Legal Education class on the fundamentals of maritime law to a nationwide audience.
---
Frequent Media Contributor on Maritime Law
View Mr. Winkleman's interviews on major news channels covering cruise ship accidents, deaths, rapes and more. Mr. Winkleman has been featured in national news media over 100 times.