Because We Care
In 1971, Charles Lipcon founded this law firm because he wanted to help people who were treated unfairly by the cruise ship industry. We know how it feels to have been mistreated and we are here to listen and to help
Read more

A Record of Success
Over $300 Million
 recovered for our clients*
3,000+ Cases
concluded successfully
165 Years
combined experience
Read more
Trusted for our Expertise
The firm national media outlets turn to for cruise ship and maritime matters.

View All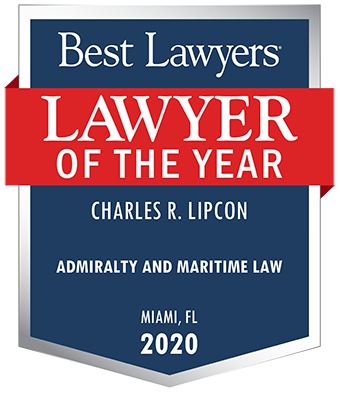 Lawyer of the Year: Charles R. Lipcon
Attorney Charles R. Lipcon has been named Lawyer of the Year in Admiralty & Maritime by US News & World Report for 2020. This achievement culminates a long career of successes, honors and accolades as one of the preeminent maritime attorneys in the United States. An extremely experienced maritime lawyer, Mr. Lipcon is responsible for numerous landmark cases, has been featured on national news more than 50 times, and has written a top 30 travel book on Amazon – Unsafe on the High Seas.
Mr. Lipcon has also been named to Best Lawyers in America, his firm is named to Best Law Firms by US News & World Report, he is a SuperLawyer as well as a member of the Multi-Million Advocates Forum and the Million Dollar Advocates Forum.
Maritime Injury Attorneys & Miami Cruise Accident Lawyers
Lipcon, Margulies, Alsina & Winkleman, P.A. is comprised of attorneys that are nationally-recognized industry leaders in the field of maritime and admiralty law. Our team of lawyers has over a century of combined experience, has successfully handled over 3,000 cases, and has recovered over 300 million dollars in damages for our clients! Our is a tradition of excellence and integrity that dates back to 1971.
By focusing exclusively on maritime and admiralty personal injury claims against cruise lines and other boat owners, our maritime injury attorneys have been able to provide aggressive legal representation to passengers and crew members that have been injured on ships all over the world. The fact is, all of our cruise ship accident lawyers have a diverse and unique legal skill set that they have employed to initiate and resolve a plethora of different types of maritime and admiralty claims across the United States. In fact, our attorneys have successfully represented a wide array of passengers and crew members who were injured due to accidents, assaults, or illnesses on cruise ships, tankers, motorboats, personal watercraft, and many other types of vessels.
Award Winning Attorneys
Moreover, we are the only plaintiffs maritime and cruise ship firm in the United States that has been named in the "Best Law Firms" by US News & World Report on a national level, and we are proud to announce that US News & World Report has named four of our attorneys as "Best Lawyers." It's achievements such as these that have earned us the reputation as America's leading maritime lawyers.
A Record of Success
Our willingness to take cases to trial and our proven track record of success has allowed our attorneys to gain a reputation as aggressive, results-oriented legal advocates in the legal community. This unwavering pursuit of justice has given our lawyers the ability to prevail against entities with significant resources at their disposal, so if you or a loved one have been injured or assaulted at sea, let us put our experience to work for you.
The Only Cruise Ship Law Firm in America with Four "Best Lawyers"
Hear What Our Clients Have To Say
If you're looking for a Lawyer to handle your case, look no further, this law firm is the best you are going to find! In my work I routinely engage with lawyers, I can tell you from lots of experience this law firm is not a typical law firm, they actually return your calls! From the beginning to end this law firms relationship was consistent with their correspondence, professional, and kindness. Thank you Michael Winkleman, Gretel Rodriguez, for all of your time in my case, and a special blessing to Andrew Freedman. This man was all of the above plus more! Andrew called me several times and kept me updated to where I stood in the process, allowing me to take my time, not rushing me and answering all my questions with kindness and tons of compassion. Additionally, Andrew was very empathetic, he placed both monetary and emotional value to my loss and shared this experience with the cruise line while negotiating my settlement. He stated on several occasions that he would try to exceed my expectations and he kept his promise, as well as avoiding a trip to Miami. The only reason why I would have wanted to go there would be to thank him in person!

I'd like to thank Mr. Winkleman, Mrs Sylvia and Ligia for always having time for me and my questions, and for always being there when I needed them. Amazing law firm. I strongly recommend them for any maritime services! Amazing team.

Jovana Radinovic
December 4, 2019
I would like to thank all of you, as well as suggest you as a company. Professional, excellent advisors at all times. I especially want to thank Michael, who is always there for either advice or help. I'm just one of those who knows how many satisfied clients you will always have a recommendation for. Thank you

Mirsad Barjamovic
November 26, 2019
Thank you Ms. Sylvia for all the assistance, much appreciated.

I am very satisfied with the service that was given to me at all times, very professional and helpful, was always there to follow up on my case. Sylvia Grimaldi great job at all times. I will surely recommend to any one needing a law firm to take care of any case they might have. Once again many thanks.

Shevlin Alyea
November 21, 2019
If you need someone who can take care of your situation with any problems you have with your employer, you should look for Mr. Winkleman and his colleagues. They are definitely the best lawyers in entire U.S. and trust me, they won't let you down. Contact them and I am sure they will help you in your case if you have one. They are friendly, and above all they are professional in the their field. Feel free and lean on their experience. They will understand you, they will help. Thank you so much for helping me and helping many more before me.

Aleksandar Glavaski
November 20, 2019
Read More Testimonials
Read More Testimonials
Jones Act Representation
We focus a majority of our practice on admiralty and maritime claims against cruise line operators and private boat owners. We have represented clients in numerous precedent-setting, high-profile maritime cases such as the Costa Concordia grounding. Our attorneys were the first to certify a class action lawsuit raised in admiralty in the United States.
We represent a wide range of plaintiffs including seafarers' unions, cruise line employees, passengers and seamen within the United States and around the globe. We provide legal representation with regard to legal and administrative rights, medical treatment, wages and other matters of boating accident compensation available under the Jones Act and United States maritime law. We have represented clients against most major cruise lines, including Carnival Corporation, Royal Caribbean Cruises, Cape Canaveral Cruise Lines, Costa, Disney, Norwegian and Princess.
Cruise Ship Assault & Rape
Lipcon, Margulies, Alsina & Winkleman, P.A., also represents passengers and crew members who have been sexually harassed or assaulted on a cruise line. We have litigated sexual assault and rape cases against most of the major cruise lines and represented many clients in this complex and sensitive area of law.
Award-winning Legal Team
Our premier group of eight attorneys has received accolades and recognition from peers, clients and legal organizations. We have been recognized as Super Lawyers and named Top Law Firm Protecting Seafarer Rights. We have also been named among America's Best Lawyers and are members of the Million Dollar Associates Forum, the Multi-Million Dollar Associates Forum and the American Association for Justice.
A number of our lawyers have been awarded a Martindale Hubbell "AV" Preeminent rating, the highest possible rating in terms of ethical standards and legal ability. This rating represents the pinnacle of legal professional excellence, as reviewed by peers in the legal community. We have also received top ratings on Avvo.com, one of the Internet's leading attorney rating websites.
Our maritime lawyers are thought leaders and have published numerous reference and educational texts in the field, including legal guides for seamen and passengers. We instruct classes of present and future legal professionals, and are frequently invited to lecture at international conventions, law schools and other venues. We have received international radio, Internet and television coverage for our multi-million dollar judgments and high profile representations. We have also been featured on national television on over 80 occasions.
Download Our Free Cruise Ship Injury App
Our legal team has developed a unique iPhone and Android-compatible application designed to help you when you need a maritime lawyer the most. Download our exclusive application and bring it with you on your smartphone or tablet on your next cruise vacation. Our app allows you to easily store and retain everything you might need to present to a lawyer:
Capture and record data and photos about your accident or injuries
Input and track injury-related expenses
Review incident response checklists to help you in a cruise accident
Find the closest medical facility
Place Skype calls from your device if you are injured at sea
Submit a free case evaluation form to our team
Designed and launched exclusively by our firm, the app offers every feature you need if you are injured on your next cruise ship excursion – even a built-in flashlight if you are caught in the dark. Download it for free today.
Contact Lipcon, Margulies, Alsina & Winkleman, P.A., today for a free, no-commitment consultation with a maritime lawyer. You can contact us by completing the submission form on our home page or by calling our toll-free number at 1-877-233-1238.