Because We Care
In 1971, Charles Lipcon founded this law firm because he wanted to help people who were treated unfairly by the cruise ship industry. We know how it feels to have been mistreated and we are here to listen and to help
Read more

A Record of Success
Over $300 Million
 recovered for our clients*
3,000+ Cases
concluded successfully
165 Years
combined experience
Read more
Trusted for our Expertise
The firm national media outlets turn to for cruise ship and maritime matters.

View All
LM&W is Celebrating 50 Years!
LM&W was founded in 1971, making this our 50th year of service focused on maritime personal injury law. When Charles Lipcon founded the firm in 1971, he was a sole practitioner. Now in 2021 the firm has grown to include 12 full time maritime attorneys, making us the largest and most experienced maritime firm in the United States, if not the world. In our 50 years of service we have helped over 3,000 injured clients and victims of rapes and sexual assaults, winning for them over $300 million dollars and taken countless cases to trial. We take great pride in our achievements over the decades, but we are most proud of the results we have achieved for so many deserving clients. Our legacy over the past 50 years speaks for itself, and we are primed and ready to continue this legacy for the next 50 years!
#50yearsofLMW
Lipcon, Margulies & Winkleman, P.A.
America's Leading Maritime Lawyers
Lipcon, Margulies & Winkleman, P.A. is comprised of attorneys that are nationally-recognized industry leaders in the field of maritime and admiralty law. Our team of lawyers has over a century of combined experience, has successfully handled over 3,000 cases, and has recovered over 300 million dollars in damages for our clients! Our is a tradition of excellence and integrity that dates back to 1971.
By focusing exclusively on maritime and admiralty personal injury claims against cruise lines and other boat owners, our maritime injury attorneys have been able to provide aggressive legal representation to passengers and crew members that have been injured on ships all over the world. The fact is, all of our cruise ship accident lawyers have a diverse and unique legal skill set that they have employed to initiate and resolve a plethora of different types of maritime and admiralty claims across the United States. In fact, our attorneys have successfully represented a wide array of passengers and crew members who were injured due to accidents, assaults, or illnesses on cruise ships, tankers, motorboats, personal watercraft, and many other types of vessels.
Award Winning Attorneys
Moreover, we are the only plaintiffs maritime and cruise ship firm in the United States that has been named in the "Best Law Firms" by US News & World Report on a national level, and we are proud to announce that US News & World Report has named four of our attorneys as "Best Lawyers." It's achievements such as these that have earned us the reputation as America's leading maritime lawyers.
A Record of Success
Our willingness to take cases to trial and our proven track record of success has allowed our attorneys to gain a reputation as aggressive, results-oriented legal advocates in the legal community. This unwavering pursuit of justice has given our lawyers the ability to prevail against entities with significant resources at their disposal, so if you or a loved one have been injured or assaulted at sea, let us put our experience to work for you.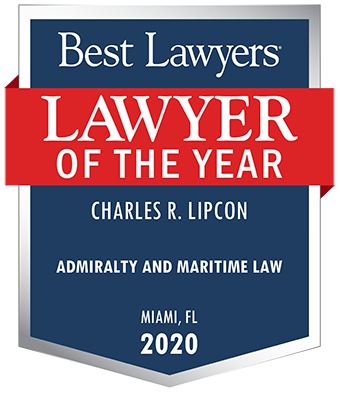 Lawyer of the Year: Charles R. Lipcon
Attorney Charles R. Lipcon has been named Lawyer of the Year in Admiralty & Maritime by US News & World Report for 2020. This achievement culminates a long career of successes, honors and accolades as one of the preeminent maritime attorneys in the United States. An extremely experienced maritime lawyer, Mr. Lipcon is responsible for numerous landmark cases, has been featured on national news more than 50 times, and has written a top 30 travel book on Amazon – Unsafe on the High Seas.
Mr. Lipcon has also been named to Best Lawyers in America, his firm is named to Best Law Firms by US News & World Report, he is a SuperLawyer as well as a member of the Multi-Million Advocates Forum and the Million Dollar Advocates Forum.
Trust Your Case to Trial Attorneys Named to "Best Lawyers" in America
Charles R. Lipcon is the firm's founder and one of the preeminent maritime attorneys in the United States. Mr. Lipcon …
Jason R. Margulies is a board-certified admiralty and maritime lawyer, as well as a co-managing partner of Lipcon, Margulies & …
Michael A. Winkleman is one of the nation's top maritime lawyers. An active trial and appellate attorney, Mr. Winkleman is …
See What Our Clients Have To Say
Cruise Ship Crew Member Injury
I want to say thank you to the company, especially to Jackie and Mike. They helped me settle my case, they really are amazing. Thanks so much for their support and I will really recommend them to everybody, from my friends to the crewmembers I know.
Cruise Ship Passenger Injury
I worked with this law firm for a long period of time and I thought I was treated very personally. I mainly worked with Jackie and she treated me a lot like a friend rather than a client. I really felt like she understood my case and my story and was there for me whenever I needed her. I would definitely recommend this law group to my friends and my family.
Cruise Ship Passenger Injury
I was very appreciative of the help that the law firm was able to do for me and my family when we had a tragic accident at sea. Alex Perez and Michael Winkleman were professional, they were responsive and they were very supportive of my family and myself. Thank you.
Download Our Free
Cruise Ship Injury App
Our legal team has developed a unique iPhone and Android-compatible application designed to help you when you need a maritime lawyer the most. Download our exclusive application and bring it with you on your smartphone or tablet on your next cruise vacation. Our app allows you to easily store and retain everything you might need to present to a lawyer:
Designed and launched exclusively by our firm, the app offers every feature you need if you are injured on your next cruise ship excursion — even a built-in flashlight if you are caught in the dark. Download it for free today.
Contact Lipcon, Margulies & Winkleman, P.A. today for a free, no-commitment consultation with a maritime lawyer. You can contact us by completing the submission form on our homepage or by calling our toll-free number at 1-877-233-1238.
Hear What Our Clients Have To Say
Daniel Grammes is fast, clever and professional. I highly recommend it!

Filippo Droghetti
July 29, 2021
I would like to thank this excellent Law Firm, specially to Mr. Mark Weiner, Mr. Winkleman, Miss Sylvia Grimaldi, Miss Anamari Cueto and Ms. Paz for the support in not easy times. For taking my case even with the complexity of it. I would like to thank you all. I wish you only the best, God Bless you.

Oxana Platonova
July 27, 2021
Thanks everyone at Lipcon, Margulies & Winkleman, especially Marc Weiner and Ms. Paz, who made me feel comfortable during the time we worked through this case. They were always helpful and provided me an explanation of each step of the process. They helplled me to win this case and did an amazing job. I would highly recommend their services.

Gricel Ortiz
July 23, 2021
I would like to give 6 star but unfortunately it is not possible.
Thanks Mr Daniel Grammes for your job!

Alexander Testi
July 21, 2021
I would like to thank Lipcon, Margulies & Winkleman, P.A for the outstanding job and specially to Ms. Sylvia Grimaldi for her focus and determination in managing all of the complexities of my case. I can tell she is committed to her clients and her team and I really appreciate it.

I want to thank LM&W, P.A., especially Mr. Mark Weiner and Ms. Paz for their great support, understanding, and consideration. They went above and beyond on helping me with my case! I truly can't thank you enough! Anybody in need of legal assistance should contact the LM&W team without hesitation!
Excellent job and God Bless!

kathleen rapay
July 2, 2021
Read More Testimonials
Read More Testimonials
Frequently Asked Questions
As award-winning maritime attorneys, we are happy to answer any questions that you may have regarding your rights and options following any maritime law issue you find yourself in. If you have been injured, harmed or assaulted, we will fight to make it right. The following are just some of the questions that we commonly answer during initial consultations with potential clients, and central questions to the case as we fight for our clients' rights.

Where do I file my case?
How long do I have to file?
How much do you charge?
How much is my case worth?