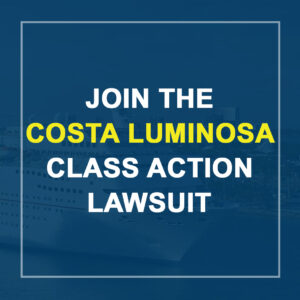 In April 2020, Lipcon, Margulies & Winkleman, P.A. filed a class action lawsuit in federal court in Miami, Florida against Costa Cruise lines related to the Costa Luminosa. The class action lawsuit alleged that the Costa Luminosa set sail from Ft. Lauderdale on March 5, 2020, despite the fact that Costa Cruise Lines knew that at least one of the vessel's passengers from its previous voyage had shown symptoms of COVID-19.
When passengers called and expressed hesitation about travelling on the cruise, Costa Cruise Lines misrepresented to them that the vessel was completely safe and that passengers would not be allowed to cancel their trip without forfeiting the money they had already paid.
Three days after the vessel left Ft. Lauderdale, the CDC issued a warning that "U.S. citizens, particularly travelers with underlying health conditions, should not travel by cruise ship." Yet, passengers onboard the Costa Luminosa were not advised of this warning or given the opportunity to go home.
Instead, passengers embarked across the Atlantic in a ticking coronavirus time bomb, which resulted in numerous deaths. Our class action complaint against Costa Cruise Lines seeks compensatory and punitive damages.
The U.S. filed class action was ultimately dismissed because of a forum selection clause contained in the passenger ticket contract that said that any claims had to be brought against Costa Cruise Lines in Italy.
As such, LM&W engaged Italian co-counsel in order to re-file the case against Costa Cruise Lines. Now, three years later, the Italian Court has approved the class action case, in an order you can view below.
This means that all of the passengers aboard this ill-fated cruise now have a right to join this class action and obtain compensation including reimbursement of the cost of the cruise as well as compensation based unfair commercial practices and ruined holiday.
Importantly, if any passenger wants to join the class action, they must do so by September 15, 2023.
Join the Costa Luminosa Class Action
Our maritime lawyer, Michael Winkleman had the following to say:
"This battle has been many years in the making and we are thrilled with the Order of the Italian Courts as it will finally give our clients their day in court and enable them to recover damages related to this nightmare cruise. We already represent hundreds of the passengers who were injured, harmed or died as a result of this cruise, but every other passenger on this cruise needs to act fast to join the class action by September 15, 2023."
Italian Order Approving the
Costa Luminosa Class Action

English Translation of the Order
Approving the Class Action